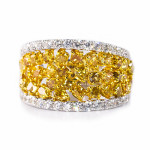 At Odyssey Jewellery we have spent decades working with valued clients who want to create a distinctive, unique piece of jewellery to mark a special occasion. Whether it is for a loved one or themselves, custom made jewellery is always extraordinary and often becomes a family heirloom that is passed down to the next generation. Serving the communities of Richmond Hill, Markham, Vaughan and the Greater Toronto Region our expert team of jewellery designers are ready to meet with you to get started on a special piece for you or a loved one.
Life is full of moments to celebrate and remember. Often, jewellery plays a key role in celebrating these occasions. Whether a custom-made engagement ring, a necklace to celebrate an anniversary or a bracelet to mark an important moment of one's life a custom-made piece of jewellery can be a daily reminder of a joyful moment.
One of the advantages in working with Odyssey Jewellery is that we have our own in-house team of designers and jewellery experts – we never send anything out of house! With our expert team working on site, we can guarantee the highest quality and will work closely with you and keep you updated on every step of the process.
To get the process started we always make sure to spend adequate time with the client. At this meeting we will ask you to bring any photos or even your personal sketches of what you are looking for in a custom-made piece of jewellery. We will work with you to complete a design that completely fulfils your vision. If you don't have any ideas of what you would like, our jewellery designers have decades of experience in creating unique custom pieces from scratch. We will discuss with you the types of materials you want to incorporate into the piece and develop sketches of ideas for you to choose from. As our jewellery is all made in-house, we are able to tell you exactly what the finish product will look like. We are also able to walk you through each step and the time it will take to produce your piece. Our attention to detail allows us to create and deliver the highest quality of jewellery that will be both memorable and long lasting.
You can be assured that at Odyssey Jewellery with our decades of experience we always stay on top of the current trends in jewellery. One of the most exciting developments in recent years has been the advent of lab-grown diamonds for use in jewellery. A lab-grown diamond is a GIA certified diamond that is grown in a lab using cutting edge technology. The composition of lab-grown diamonds is the exact same as diamonds found deep within the earth's crust which are brought to the surface through mining. There are two processes which lab-grown diamonds are created which mimic mined diamonds. One is a High Pressure/High Temperature (HPHT) process, and the other is the Chemical Vapor Deposition (CVD) process. A diamond from the HPHT process starts as a small diamond seed that is placed into carbon, then the seed is exposed to extremely high temperatures – 1500 degrees Celsius – and put under tremendous pressure, 1.5 million pounds per square inch. As the carbon reacts to this heat and pressure it melts, and a diamond begins to form. A diamond made with the CVD process starts when slice of a diamond seed is positioned in a chamber and then heated to 800 degrees Celsius, the chamber is then filled with a gas like Methane (although other similar gases can be used), these gases are then ionized which causes pure carbon to adhere to the slice of diamond – slowly a diamond is formed.
The advantage of using lab-grown diamonds is that they can often be less expensive than 'natural' diamonds. This isn't due to the quality but because the timeline on the supply chain between mined diamonds and lab-grown diamonds are very different. While both need to be cut, polished and receive GIA certification mined diamonds take much longer to retrieve. Many of our clients choose lab-grown diamonds as they are a more ethical option. Mined diamonds are often found in conflict-rich areas of the world and the money from the purchase of the diamonds has been tied to nefarious endeavours. Mined diamonds also take a certain toll of the environment in the region it operates in, whereas lab-grown diamonds are much less harmful to the environment and often a more ethical choice.
At Odyssey Jewellery we have a wide array of gemstones and precious metals to choose from. We will work with you to decide the best combination for your custom design. Our most popular items include engagement rings, bracelets, necklaces with unique pendants, earrings and diamond rings. Whether you are designing for a man or a woman we will be able to find the perfect piece and style for you. As a testament to our work, we are thrilled to be working with families over the generations to create pieces for their families. We are serious about our work, and we provide unparalleled service to our clients.
We look forward to working with you to design a breath-taking custom-made piece of jewellery as you celebrate a special moment in life. Get in touch today to get started on this special project.