Years ago I lost a treasured diamond ring that was my grandmothers, which I had always wanted to replace.  As I have been divorced for several years I had my promise ring, engagement ring and wedding ring sitting idle in a jewellery box for the past 10 years.  I decided to go and visit Ed at Odyssey Jewellery in Richmond Hill.
I showed Ed my three separate rings which each had a very small diamond in them.  I told him the story of wanting to replace the heirloom ring I had lost, but I wanted a more modern look to it.
We went through the simple friendly process of me explain my vision.  Ed drew up some sketches while I was there at the shop with him and we looked at pictures of different designs and we came up with a concept of the ring I had envisioned.
Two weeks later Ed called me and said, "You're Ring Is Ready, Come On In".  I went right over, very excited to see my new ring! I WAS THRILLED!!! Odyssey Jewellery had taken my rings that were of absolute no use to me into a fabulous new modern ring I now wear every day!
Here are before shots: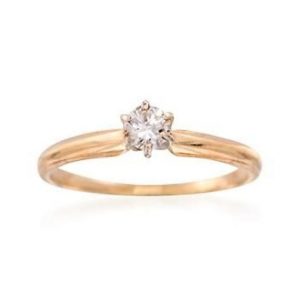 Here some after shots after the three stones were combined:
An extremely happy customer.  I would recommend Odyssey Jewellery to anyone for new Jewellery, Custom Jewellery, Jewellery Repairs or Restoration.  I can honestly say they take all your wishes in to consideration and take the time, care and effort to create your masterpiece.